This one didn't make it into the novel, but it gives you a little background on Jordan's parents.
=================================================
His John Deere cap tilted when he reached for the falling bag of groceries. All but a can of apple pie filling was saved, the can rolling underfoot where he was fumbling to grab it as he responded to her.

"Farmer."

"Excuse me?"

"Did you ask me what I do? I'm a farmer."

She laughed and pointed to his hat. "I said, 'Oh no thank you.' But that explains your cap."

"Ah. Sorry," he laughed with her and adjusted his hat. "I am deaf in my left ear."

She reached for the bag. "Maybe I'll see you around, Farmer."

He had made sure of it. It was not hard to find her in that small Midwest town filled with farmers and their families. A lab-coated geneticist in town to collect seed samples from the local farms stuck out like a sore thumb in the only local diner. Their first date was a movie and then to her house for a fresh baked apple pie with a scoop of vanilla ice cream. She called him Farmer all night. Everyone in town started calling him Farmer when they heard what happened at the store.

He loved it. He loved that she teased him from the start and continued to call him Farmer because it made him a permanent piece of her just as it made her a permanent piece of him.


Powered by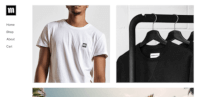 Create your own unique website with customizable templates.